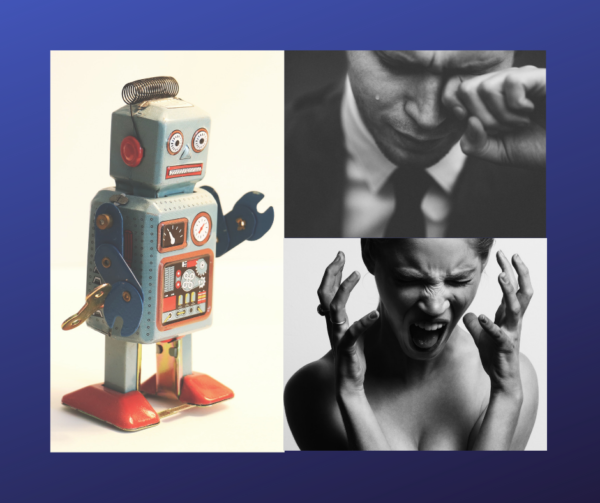 Getting Smarter about Emotional Intelligence
Emotional Intelligence is your ability to be aware of and control your emotions in all types of situations. It's less a matter of not expressing yourself and more a matter of finding the most appropriate and positive way to show your reactions. So, how do you get there?  Let's start with the four pillars of EI as defined by EI developer Daniel Goleman. Emotional intelligence breaks into four specific tenants or skills.  It's not about turning off your emotions but instead being smart enough to keep your response appropriate.
Self-Awareness
You should know who you are.  But do you know how you'll react when/if something unexpected or truly terrible happens? Are you prone to yelling/raising your voice or crying? Or are you most likely to retreat?  Can you count on yourself to generate the correct reaction with only a moment's notice? Here's a good test – what if you got unexpected and unflattering feedback?  What would you say?  Would you lash out?  Or would you be able to take it in and respond appropriately?  Knowing yourself is a cornerstone to healthy emotional intelligence.
Self-Regulation or Management
A strong leader can quickly adapt to many situations with the "never let 'em see you sweat" vibe. That is not the work of a robot, that is a skill of an emotionally intelligent leader.  If you continue to struggle here, you shouldn't hesitate to ask for help. Asking for help isn't a weakness but continually giving in to emotionally charged behavior is.  Your being able to control your reactions and respond rationally will set an excellent example to your team and your colleagues.
Also included in self-awareness and self-regulation is motivation. Motivation is recognized as our drive to improve, commitment to goals, initiative, openness to opportunity and optimism.  What is driving you?  What gets you up in the morning and makes you happy to contribute?  Your motivation needs to align with your values and will undoubtedly drive your EI.  Motivated people are most often more satisfied, more productive and yes, more emotionally intelligent.  Recognizing your driving forces directly relates to your overall attitude and mindset.
Social Awareness and Skills
No, not the social media kind, the other kind.  Your social awareness starts with empathy and communication. You must acknowledge your teams' thoughts and feelings.  Further, you must know how to relate to the group.  In this sense, EI is not barking orders like a dictator, but being a real person. The emotionally intelligent leader can inspire and not just lead. Your awareness of the world around you and accepting your place in it is the cornerstone of this concept.
Relationship Management
This becomes an extension of all EI skills and being able to lift others.  Your leadership and influence should translate into being a good mentor and an engaged team player regardless of the circumstances.  Another important aspect of relationship management is conflict management. You should be able to give and positively receive feedback as well as handling an actual uncommon conflict.
Finally, test yourself against change.  As any company grows, there is bound to be change.  A leader who can comfortably shepherd her team through change is an invaluable asset.
While emotional intelligence is not directly related to intellect or brainpower, it does speak to your ability to react and adapt intelligently.  It's not about being unflappable; it's about being able to use your best judgment.
And don't forget...
Click below to keep blogging with us!