---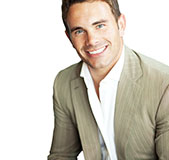 Seth Mattison – 01.27.16
We are entering the greatest period of business transformation the world has ever known. The rigid models we've come to count upon for generations are no longer reliable and in many instances, even considered not relevant.  The constant state of disruption we are experiencing mandates a bold new approach to leadership. Seth Mattison, an internationally renowned expert on workforce trends and generational dynamics, will challenge conventional leadership thinking while introducing the five super trends shaping the future of work. Supported with cutting edge research and leading case studies, Seth will provide deep insights into what's coming next in the new world of work for leaders at all levels. He will give a unique perspective on the macro drivers of behaviors in the workplace, and share how multiple generations in the workplace can drive and change your culture. Seth prepares leaders to navigate a new business landscape where the pace of change is elevating and collaboration is the key ingredient to unleashing the innovation required to compete and win.
What I Will Learn
---
Program Materials
The Documents, Exercises, Audio and Video below are available as a Leadership Series Member. If you are not a member, please click here for information on how to register.
---
Exercises
---
Audio
---
Video
Below is a list of video lessons available. Please login as a Leadership on Demand Member to view.