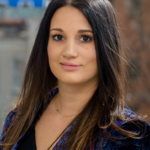 As Program Manager, Lea Almagno is solely responsible for the success of the Executive Forum Leadership Series®, a live speaker forum that features today's top business thinkers. In this role, Lea researches and selects speakers based on their knowledge of relevant organizational development topics and their leadership experience in both the public and private sectors. In doing so, she ensures her clients walk away with valuable professional development tools that can be immediately implemented in their organizations. Lea delivers valuable customer service to both current and prospective clients with proactive communication and a helpful and willing approach. Building upon her experience in commercial real estate and property management, Lea exceeds expectations by anticipating the needs of her clients and demonstrating careful attention to detail. Lea dedicates herself to exceeding expectations.
In addition to managing the speaker selection each year, Lea oversees the venue logistics and food and beverage needs for each live speaker forum. These responsibilities include maintaining the client registration process, creating event seating accommodations, and partnering with both the venue staff and catering staff to ensure a successful program. Her expertise with these speaker forums shows her ability to lead a large initiative in a professional and efficient manner.
Lea's focus on client service and personal connections is her most valuable asset, which allows her to build and maintain long-lasting relationships. This skill is at the center of her core values.
When she is not at Executive Forum, Lea enjoys skiing, exploring the diverse and innovate culinary culture of the Denver metro area, and trying traditional Italian recipes with her family. She also thoroughly enjoys celebrating holidays and involves her Westie, Finnley, in as many festivities as possible.
In her previous role as Assistant Property Manager, Lea utilized her skillset to provide full service property management for Homeowner Associations in Colorado for over 4,000 residential units.
Education
B.A., University of Colorado – Boulder, CO